SAFETY:
Please read all safety information carefully before using SafePan:
1 . Always take care when handling hot pans.
2 . Young children should not be left alone next to a hot pan.
3 . Never leave pans unattended while it's being preheated or during cooking.
4 . Make sure the pan handle does not extend over the edge of the stove in a way that may cause the pan to accidental tip over.
5 . Lids and handles may heat up during the course of cooking.
6 . Check the temperature of the handles or the lid carefully by a light touch before grabbing them. Always use oven mitts if the handle or the lid is too hot to handle.
7 . "Non-metallic handles" are Not suitable for Oven cooking.
8 . SafePan is 'CERAMSAFE' are PTFE-free (0%) and PFOA-free(0%).
9 . SafePan can cook at temperatures up to 450oC/842oF with NO TOXIC FUMES released.
BEFORE FIRST USE:
1) Remove all packaging materials and labels. Please recycle rubbish properly.
2) Wash in mild dish washing detergent and rinse with warm water. Dry with paper towel or soft cloth.
3) Lightly oil the inner non-stick surface of the pan with a table spoon of cooking oil before using.
COOKING:
1) Preheat the pan to safe cooking temperature.
(Do not overheat or preheat for prolonged tome without food in the pan).
2) Always add a small amount of cooking oil to the pan before each cooking.
3) Do not allow the pan to boil dry or burn.
4) Do not use non stick cooking spray.
5) Do not leave or store cooked food in the pan for prolonged time after its being cooked.
UTENSILS:
Plastic, Rubber, Silicon, Wooden utensils or blunt metal utensils are all suitable. Do not use sharp or pointy metallic utensils or knives on the pan. Do not cut food in the pan.
If FOOD sticks to the Pan:
1) If food sticks to the pan during cooking, add a small amount of water to the part of the pan that the food is struck to. Adding moisture will create a burst of steam that should lift any food stuck to the pan.
2) After a prolonged use, it is natural for the non-stick surface to lose some of its performance. Adding small amount of cooking oil before every use will assist in rejuvenating the non stick performance.
3) If food is burnt and stuck to the pan, soak it in warm for few hours and gently scrub with soft cleaning cloth or sponge.
NOTE: Factors like burning food, fat, or oil on the surface of the pan or prolonged exposure to high heating without food will accelerate the loss of non stick performance.
Always wash thoroughly to remove all traces of food or oil and dry thoroughly before storing your pan. Do not drop pan on the floor and take care you do not wrap or bend the pan (this may damage the ceramic non stick coating).

CARE and CLEANING:
1) Always allow the pan to cool completely before cleaning.
2) Clean thoroughly after each use with mild dish washing detergent and warm water and always dry pans thoroughly before storing.
3) Due to the aggressiveness of some dishwasher detergents, we recommended washing SAFEPAN by hand in warm soapy water and rinse dry with soft cloth or paper towel for prolonged use of the pan.
4) DO NOT USE steel wool, scouring pads, or harsh scrubbing pads to clean the surface of the pan. Always use soft sponge or mild pads to prolong the non-stick surface.
5) DO NOT USE abrasive cleaning agents, scouring powders, oven cleaners, or any cleaning detergent that contain chlorine bleach.
6) If the food is accidentally "burnt dry" while cooking, quickly empty any loose food and fill the pan with water and let it come to a quick boil then turn off the stove and leave it till cool. Once cooled, the burnt food should easily wipe off the pan. For tougher burns, soak the pan in water for few hours before washing. DO NOT USE HARSH scouring pads or steel wool to clean the burnt food as this will damage the non stick surface.
IF YOU BURN FOOD TO A CHARCOAL
If you burn food to a charcoal and tough burnt marks do not wipe off and black deposits form on your non-stick coating, use "STEEL WOOL" to scrub away any carbon or black residue/stain thoroughly then wash pan clean. Using Steel wool or scouring pads to thoroughly scrub away the black residue may severely scratch and scrape away the "non-stick top coat" BUT by "RE-SEASONING" the pan, you can "Rejuvenate" the pan's nonstick performance.
The "2-minutes" Nonstick RE-SEASONING
1) Apply half a table spoon of vegetables oil and rub thoroughly and evenly on the scratched away nonstick surface of the pan with paper towel.
2) After applying the cooking oil, heat the pan at High Heat for about 2 minutes or until it starts to slightly smoke (Do not burn the oil).
3) When the pan becomes hot, turn the stove off and remove the pan. Again, rub the smeared oil left on the pan evenly and thoroughly with paper towel until wiped dry (be careful of the hot surface of the pan). "Now its seasoned". The unique property of SafePan is that the "scratched" surface acts like a cast iron pan by holding a very thin layer oil to create a nonstick surface.
4) Once the pan is seasoned and its nonstick property rejuvenated, always add small amount of cooking oil before cooking.
5) Repeat the Re-Seasoning every time you want to rejuvenate the nonstick performance.
6) The temperature of the pan "just before adding the food" should always be kept at Medium-heat to maximize the nonstick performance. Heat can be gradually raised but sudden 'very hot' surface when adding food may cause some food to stick to the scratched surface.
Limited Lifetime Warranty:
SafePan guarantees pans for 12 months from the date of purchase against manufacturing defects. The non-stick ceramic coating is guaranteed for life of the pan against peeling and bubbling. This warranty does not cover any damages caused by user negligence, professional use, incorrect use, or any wear and tear due to normal cause of use.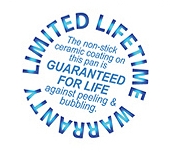 AVOID "HIGH HEAT SETTINGS" when cooking MEAT and Protein rich ingredients:
It is very important to pay attention to the "Heat Settings" when using SafePan.
ALWAYS TRY TO KEEP TO "LOW OR MEDIUM" HEAT SETTINGS especially when cooking meat and protein rich ingredient.
Due to the unique thick layer of "Ceramsafe high density ceramic coating," SafePan "holds" lot of the unused heat from being wasted and escaping. So, YOU DON'T NEED MUCH HEAT TO HEAT UP THE PAN. Lower heat setting means less energy used and saves on energy bills and the environment.
If the temperature of the pan becomes too hot, the nature of Ceramic tends to hold on to the food thus making some food of protein nature such as meat or egg or tofu to stick to the pan.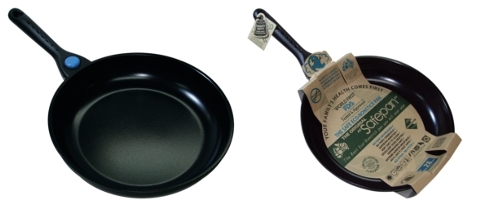 The PAN may become "TOO HOT" if "High Heat Setting" is used.
Always keep the heat "low to low-medium" to cook meat or eggs. Even at such low setting, the pan's surface becomes "very hot" and enough to cook the meat quick and easy without burning.